Price Guide
Below you will find information and a general price guide for Bullwhips, Snakewhips and other products. The stated whip prices are for 16 plait whips in one or two colors. We normally do two-tone and patternwork at no extra charge! However, some customization-/changes such as other plait counts, extensive fancyplaiting etc might affect the price.
When contacting us to place an order you will always receive a price quote when we have the details worked out. Once you have received the final price you can decide if you want to go ahead and place the order. The information on this page is only intended to provide an idea about the prices.
***The prices below does not show VAT (25%), which will be added for customers within the European Union.***
Listing everything we're able to do on this page would be very impractical, so if you're interested in a different plait count-/length, matched pairs or some other product not seen below, you are more than welcome to contact us and we'll be happy to help and answer any questions you might have.
The prices are in Swedish Krona. Please feel free to use the Currency converter at the bottom of this page to determine the price in your appropriate currency.
---
Aussie Bullwhip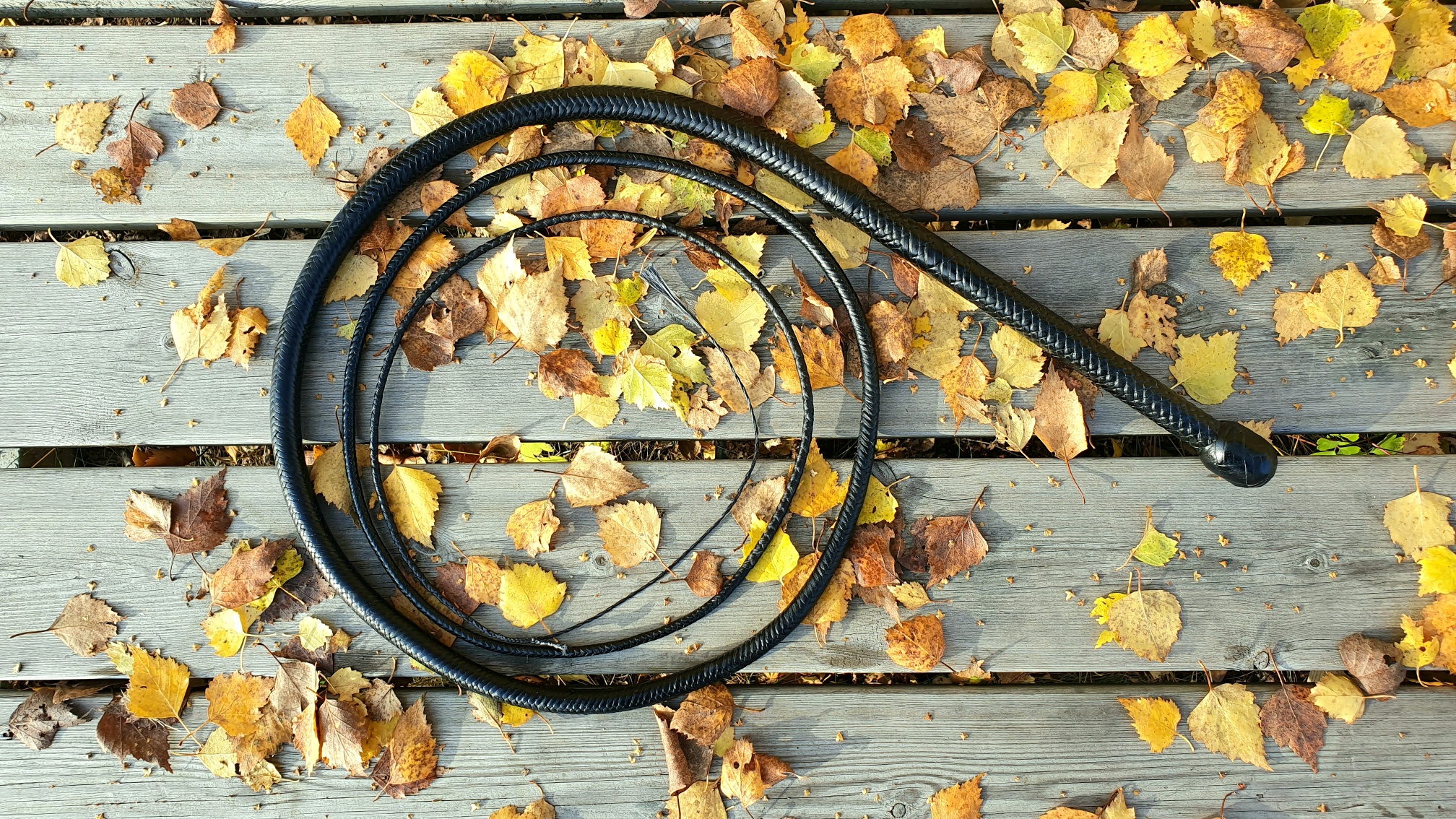 Aussie style Bullwhips have become more and more popular over the years. Many whip crackers have them as their favorite model and it is easy to see why. Compared to the Classic Bullwhip the Aussie model have a narrower profile, lighter weight and longer handle. The longer handle provides extra leverage and control. That (in combination with the lighter weight) makes for an elegant, fast moving, extremely accurate and versatile whip. Fit for lightning fast routines, effortless cracking, beautiful flow and pinpoint accuracy.
Our Aussie Bullwhips comes standard with a 12" handle, two plaited kangaroo hide bellies, cowhide core/bolster and a lead weighted heel for balance and feel. Being designed and fine tuned to perfection, there's just no way you can go wrong with an Aussie! Customizations available.

---
Classic Bullwhip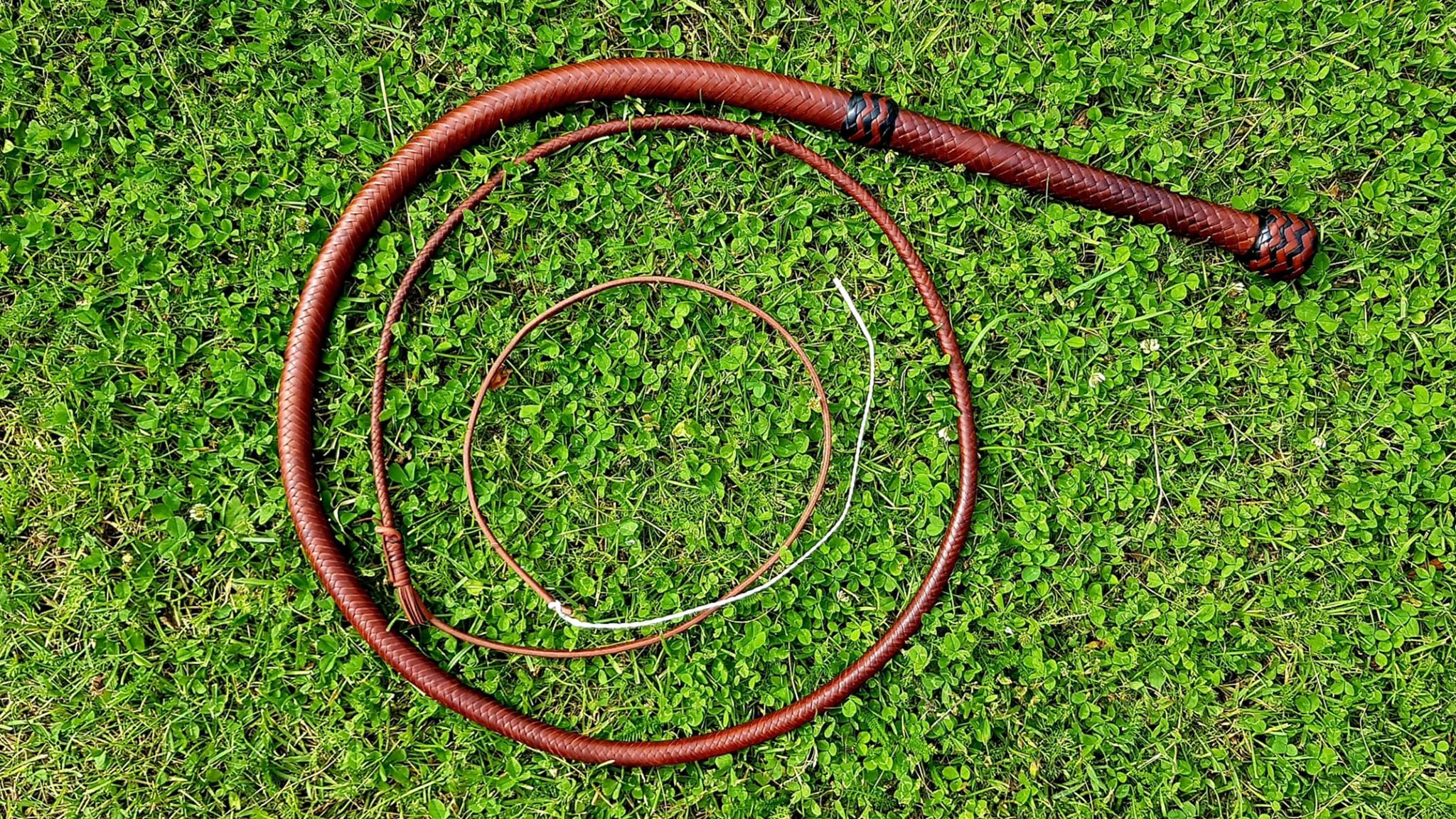 The name kind of says it all. The Classic Bullwhip has some additional girth and weight to it, making it a very powerful tool. The 8mm steel handle foundation (along with a lead loaded heel) provides a great solid feel in the hand. This model utilizes its weight, leverage and exquisite taper to transfer the energy from your hand all the way to the tip of the cracker. Providing good solid cracks. With authority!
Our Classic Bullwhips are naturally weighted, comes standard with a 10" handle, two plaited kangaroo hide bellies, cowhide core/bolster(s) and lead weighted heel knot. If you're into slower cracking routines and likes a bit of heft to your whip, look no further. The Classic Bullwhip truly is a tried and true classic! Customizations available.

---
Snakewhips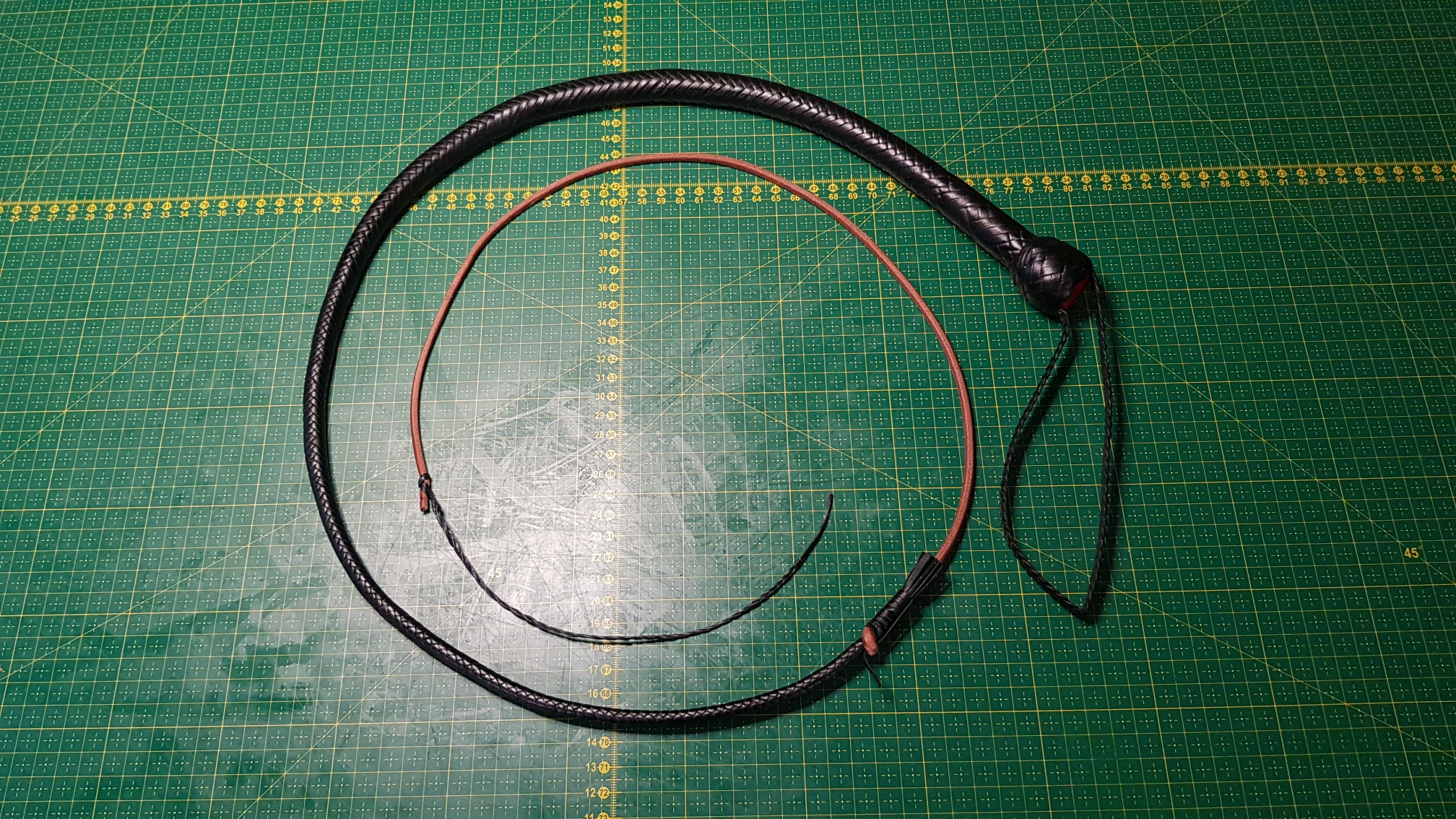 Snakewhips difer from the bullwhips in two main ways. First and most noticeable is the lack of a rigid handle. This makes them fully flexible all the way through and means there's no leverage in the whip itself. However, to make up for this they have (unlike the bullwhips) a lead-/shotloaded core that provides a healthy amount of weight to the whip itself. That extra weight in the center of the whip is what gives the whip its "oumph!". Snakewhips are quite space efficient. Without the handle they can be coiled to easily fit in your backpack and is a top option if you plan on using your whip indoors or in close quarters.
Our Snakewhips are lead loaded, have a comfortable heelknot, kangaroo hide bellie(s), cowhide bolster(s) and cracks with the same ease as our bullwhips. If you're planning on using your whip indoors or want to be able to easily bring a whip on all your adventures, a Snakewhip would be the way to go! Customizations available.

---
Collectors Whips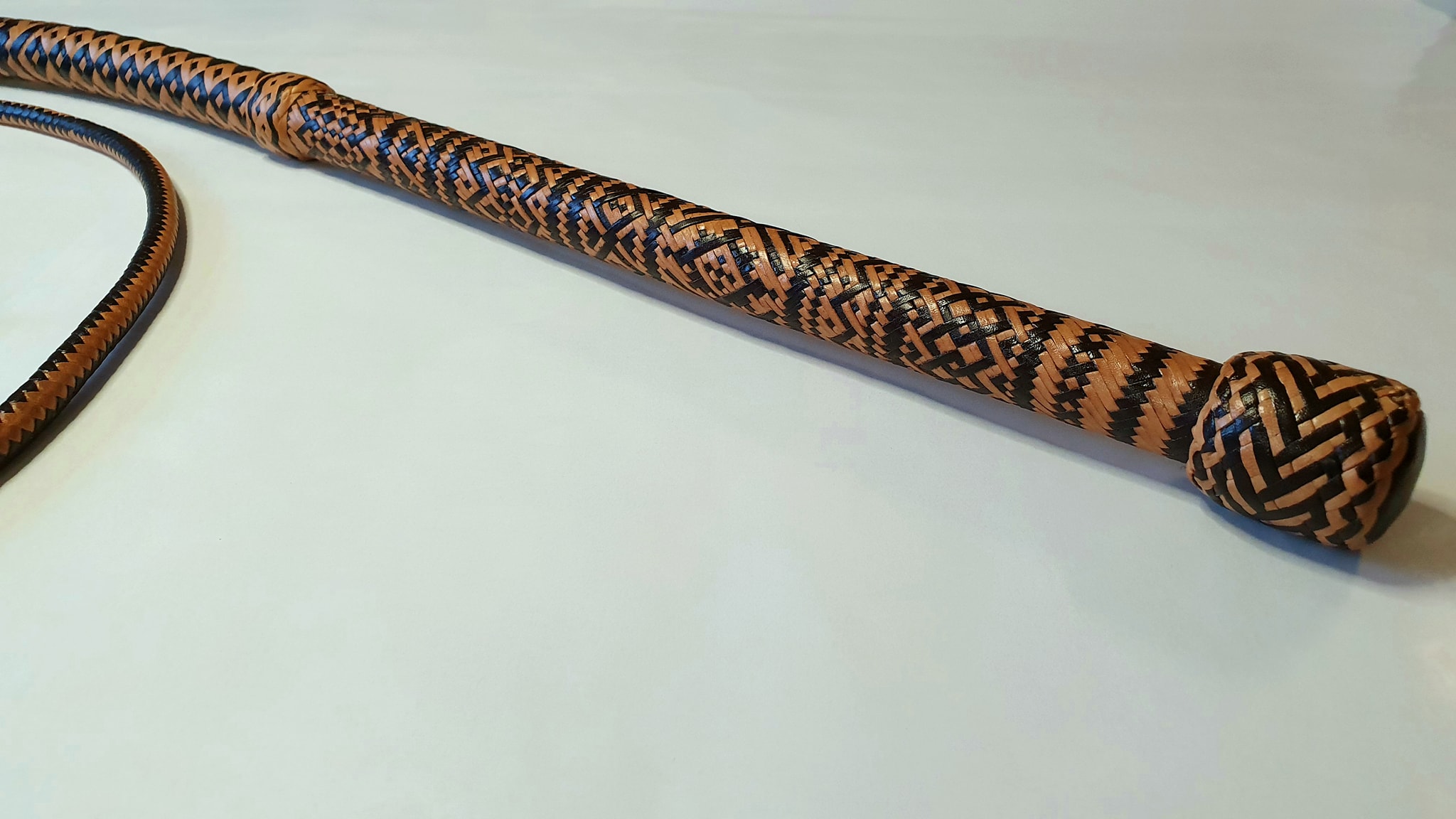 All whips can be made to look unique but the Collectors whips takes things to a new level. A Collectors whip (depending on its intricacy) can take many hours or even days just to design and prepare before any actual work is done on the whip. The whip pictured above is a price winning 7ft Aussie Bullwhip with a 48 plait handle and 24 plait thong in Brandy/Natural kangaroo leather. The 48 strands used in the handle where cut to 1.6mm wide and plaiting the patterns in the handle alone took about 28 hours. If you're interested in a Collectors whip you're welcome to contact us to discuss the options available.
Prices starts at 10.000sek but vary depending on the specifics of your whip
---
Hatband Bullwhips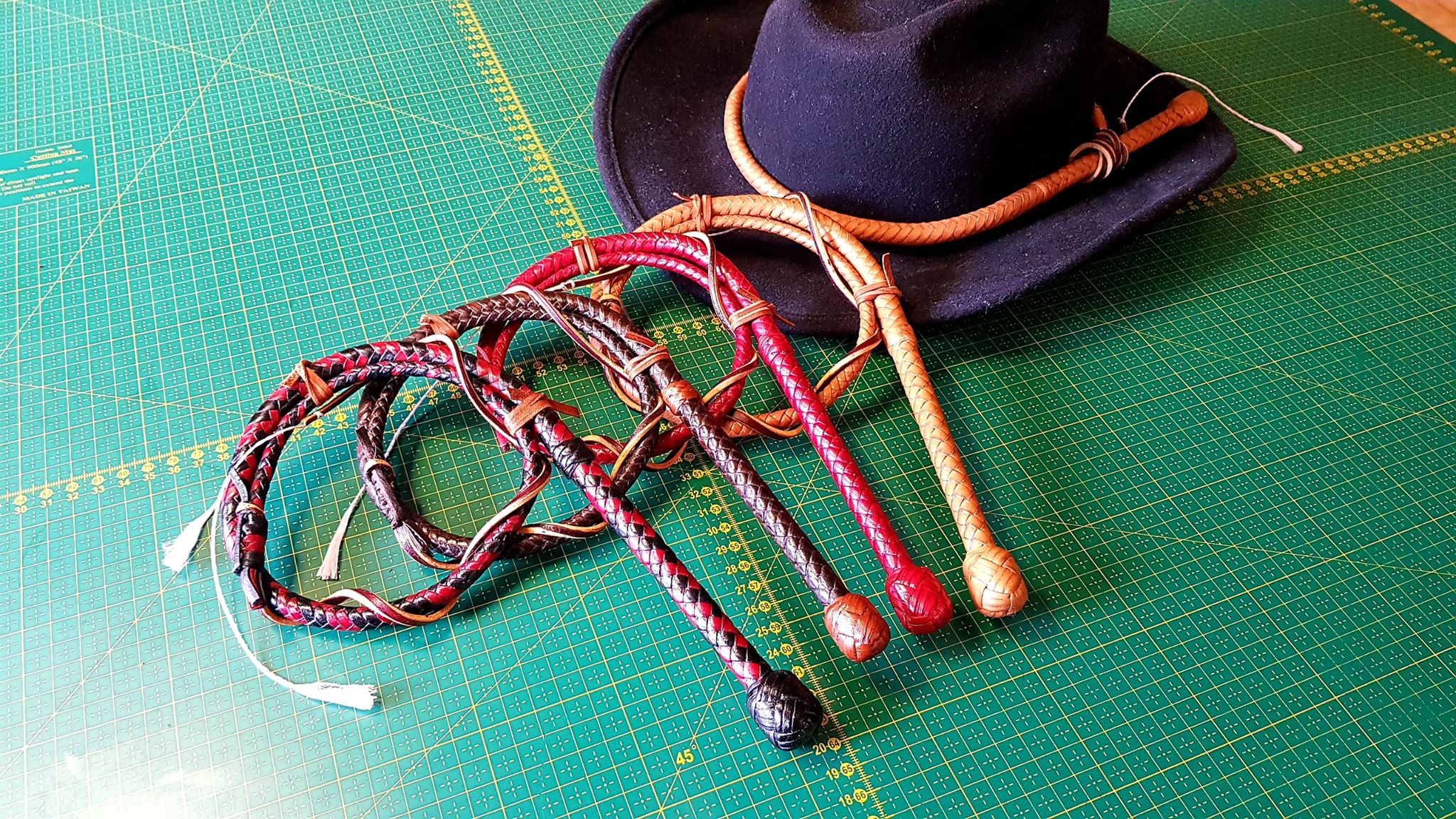 Hatband Bullwhips are tiny light weight 8 plait whips made to be worn around your hat, but they can also be used for spontaneous whip cracking fun! They meassure about 26" from the end of the handle to the start of the fall and fits nicely around any hat as they're tied on using the fall.
1200sek (available in all our standard colors)
---
Plaited Hatbands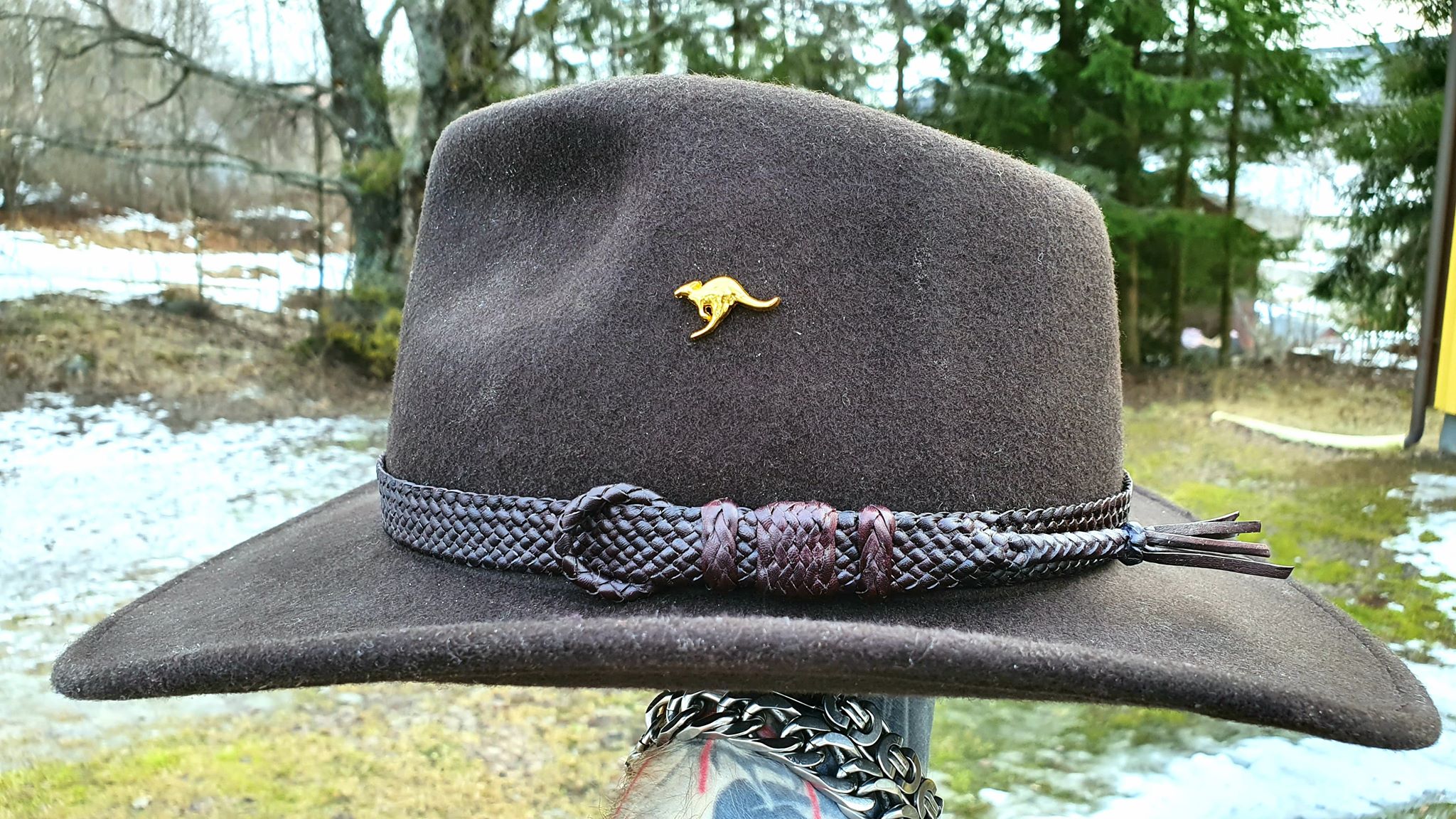 Being cut and plaited from the finest kangaroo leather available, a proper hatband can lift and bring new life to any hat. And they don't need to cost a fortune! The price range is very wide depending on if you're looking for a basic model or something really special and elaborate. We love making hatbands as they allow for a lot of creativity, are made to fit your specific hat (in size, style and color) and makes your hat truly unique. Available in all our standard colors.
Prices starts at 600sek.
---
English Eye Quirt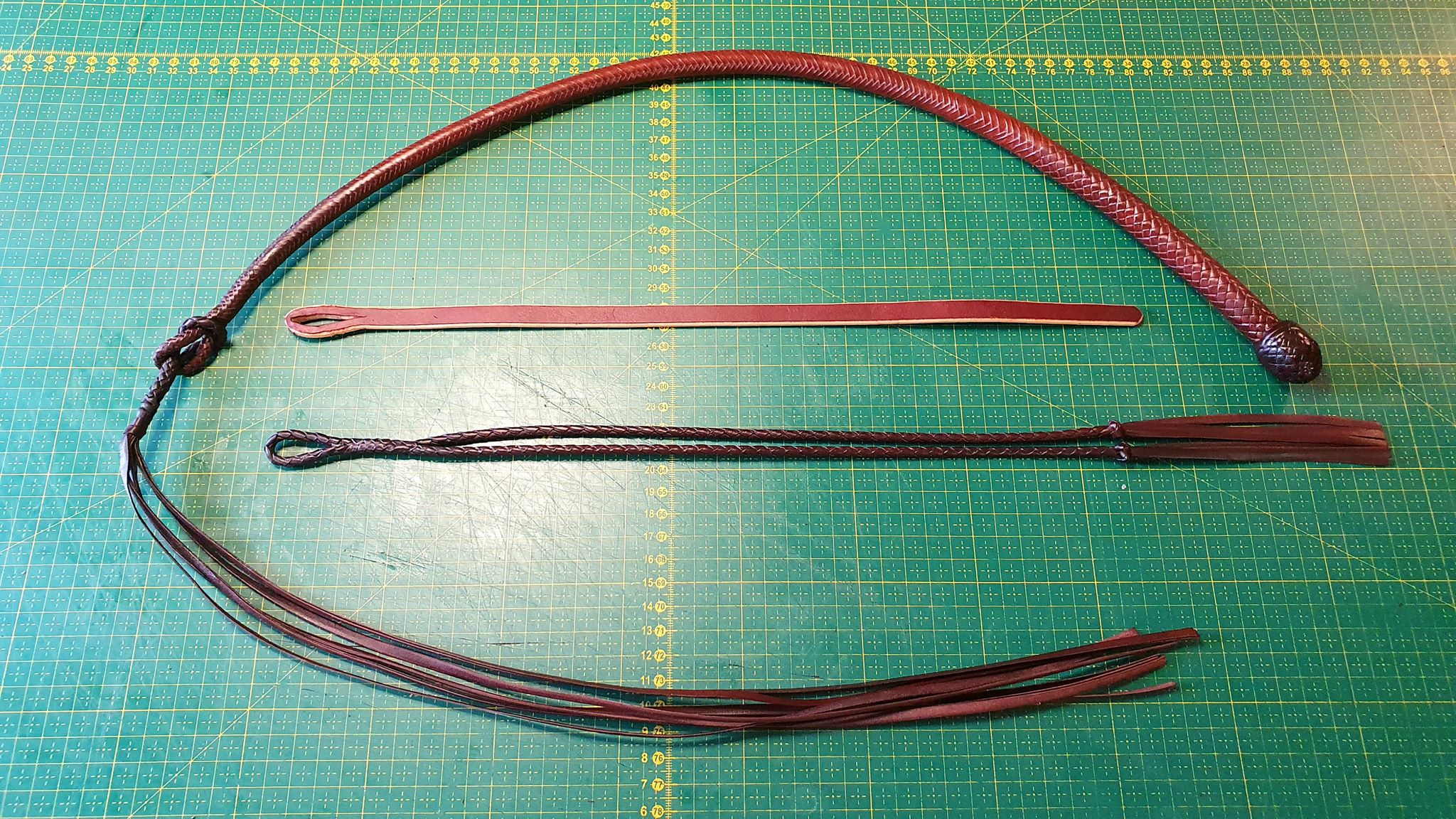 A lead weighted main body fitted with a braided loop (a.k.a English eye) made to sport a wide variety of different tails-/lashes makes this quirt a powerful tool of versatility. The main body meassures 20-22″ and a wide number of different lashes can be made to fit your preferences. Switching between the different lashes is straight forward and can be done in the blink of an eye. Only available in 16 plait and single color main body. Heel knot and tails can have contrasting color(s).
Price depending on number and style of tails-/lashes but starts at 3500sek.
---
Cat O'Nine Tails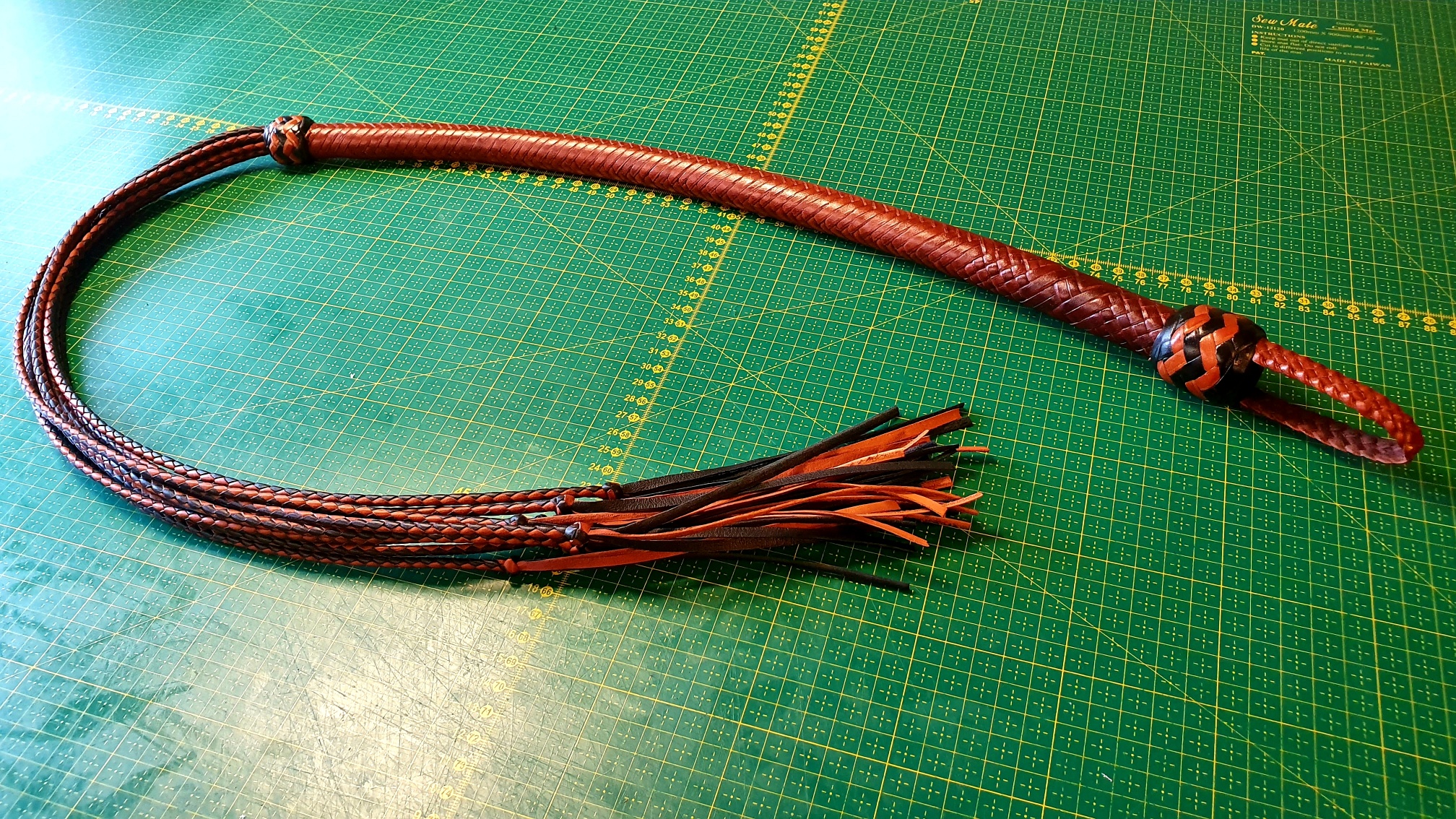 Our Cat O'nine Tails are crafted from the same high end kangaroo leather and with as much attantion to detail as all our whips. They have a lead loaded core, 9 plaited tails and normally a 16 plait overlay. The thong tapers just like a whip would and provides a very smooth snakewhip-ish feel to each throw. Customizations available.
4000sek (available in all our standard colors)
---
Other products/services
Listed below you can find a variety of other products and services that we offer along with a starting price. If you are intereted in any of them, have seen something else on this site or have an idea of a different product you want made you're welcome to contact us and we'll see what we can do for you.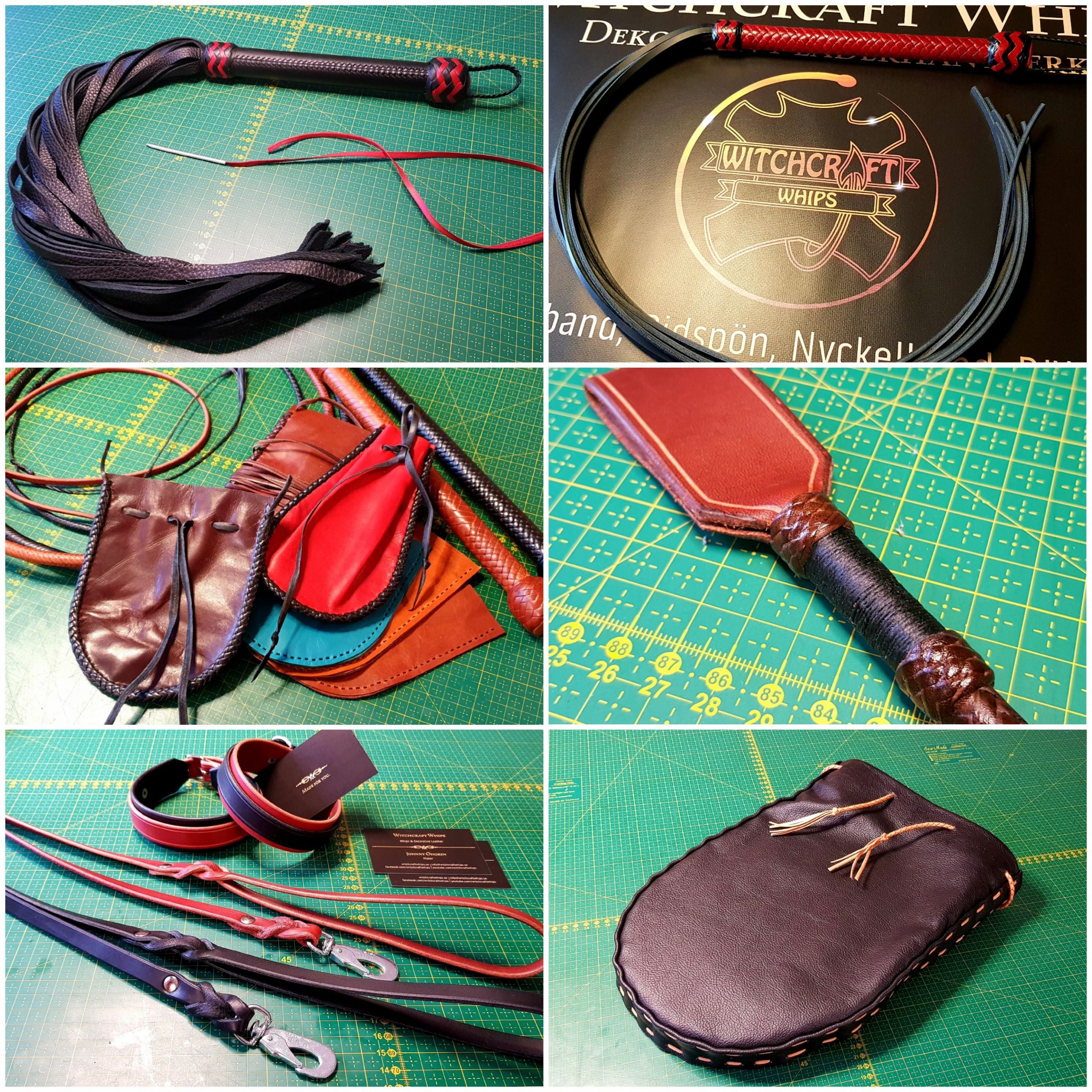 Whip repairs – Price upon request
Whip cracking lesson(s) – Price upon request
Whipmaking/Plaiting Lesson – Price upon request
Flogger (Leather wrapped handle) – 1800sek
Flogger (Kangaroo Plaited handle) – 2300sek
Kangaroo Leather Pouches – 500sek
Kangaroo Plaited Riding crop – 1800sek
Dog Lead-/Collar – 550sek
Kangaroo Plaited Dog Lead – 2000sek